HELPFUL TIP
If all your doors have Double Cylinder Deadbolts. While you go to bed, leave a key in the Deadbolt in case of an emergency. This will help you when you are trying to escape from your house, rather than hunting a key.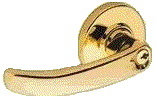 How do you know if you need Deadbolts installed on your house?
Do any of your doors have glass around them, to where a burglar can break the glass and reach in to unlock it, we recommend on these types of doors that you install Double Cylinder Deadbolts. If your door is not surrounded by glass, than a Single Cylinder Deadbolt will be sufficient.

Lever handles can really decorate your house
Residential
We offer a line of locks to our customers. whether its our products or the customers choice. Securing your home is what we do best.
Though we do not install security alarms, We will be glad to tell you what you need to know to help secure your residence.
There are a variety of different brands of locks that we can help you chose to suit your needs
All copyrights and trademarks of their respective companies Copyright 2017 McTyre Lock & Safe.© - All rights reserved